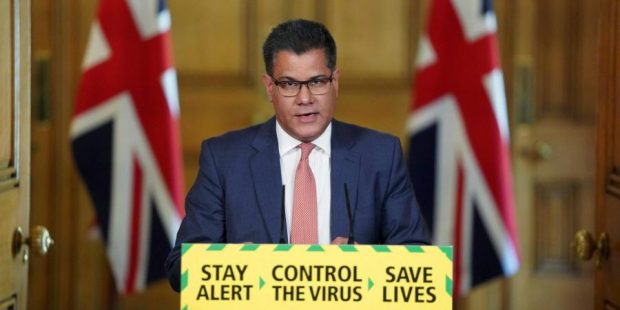 A new deal between Oxford University and AstraZeneca to produce a coronavirus vaccine at scale - pending successful trials -  was the front page splash in The Daily Mail and the Express today. The agreement will see vaccines being manufactured in a "rapid deployment facility" before the outcome of trials and could see 30 million vaccines distributed to the UK public by September.
The announcement was made by Business Secretary Alok Sharma at yesterday's coronavirus daily briefing where he also announced an additional £84m which will be provided to scientists to support trials at Oxford University and Imperial College London. The Telegraph (p2) states the UK will be the first country in the world to get a coronavirus vaccine should trials be successful and quotes the Business Secretary as saying the move was "genuinely unprecedented".
Business Secretary Alok Sharma said:
Our scientists are at the forefront of vaccine development. This deal with AstraZeneca means that if the Oxford University vaccine works, people in the UK will get the first access to it, helping to protect thousands of lives.

The agreement will deliver 100 million doses in total, ensuring that in addition to supporting our own people, we are able to make the vaccines available to developing countries at the lowest possible cost.

The UK continues to lead the global response to find a vaccine, and the government is backing our scientists to do this as quickly as possible.
The Guardian (p1) leads with the announcement of £38m of funding that will go towards the rapid deployment facility that will manufacture the vaccines. The Express also notes the UK has now committed over a quarter of a billion pounds to finding and manufacturing a vaccine. ITV News runs through how the trial and manufacture of the vaccine might work, noting researchers at the Oxford Vaccine Group began testing the vaccine candidate ChAdOx1 nCoV-19 in humans on April 24.
Bloomberg looks at the announcement within the context of the global race to find a vaccine, noting developers globally are working on as many as 100 experimental vaccines for Covid-19 and concerns the race could leave poorer nations behind. The announcement is also reported by BBC News, Lad Bible and many more.
The full statement made at yesterday's press briefing can be found here and the full press release is here.